OYE (pronunciation: Oh-Yay!)
Oye Coffee Co. is a West African coffee and lifestyle experience founded by two Nigerian brothers. With a little bit of savings, family inspiration, and faith in a lofty dream, we decided to bring Oye Coffee to life.
Our vision, journey, and inspiration center around culture, community, and coffee — to deliver a transformative coffee experience that began thousands of miles away into something created to enjoy. We seek to use art and storytelling to share the beauty of west african culture through coffee and experiences to highlight what brings us all together all while embodying our name "Oye" which translates to mean chief of the village, tribe, and land — Chiefs of the Coffeeland. In our imagination, the Black Crowned Crane represents our native bird and companion in which we believe inspires us to "soar for more". The bird's representation marks much of what we do and who we are — from our passion to live peacefully, to our unique charm, we celebrate the everyday ritual of pushing the boundary forward. We want to add a new component to the narrative around how people experience coffee and culture in the community, and in the regions where we can make a difference.
The idea of Oye Coffee Co. came from our conversations with relatives back home in Nigeria who operate a cocoa and coffee farm. They would send us coffee samples to try, and we fell in love not only with the coffee, but with the whole concept of coffee — how it gets people going and brings different cultures together and so much more. When we visited Montreal, we experienced the café culture firsthand, and it fueled our own idea: to re-imagine the coffeehouse experience. Meanwhile, we became "coffee tourist", and during our adventures we have built relationships with coffee farmers in different regions to bring a true "farm-to-cup" experience. Drinkers of our coffee discover the inherent qualities of each kind of bean used to make the coffee in their cup special.
Being a transformative coffee concept inspired by the "aromatic euphoria", we are embarking on a journey to open up sui generis coffee shops and experiences, aiming to highlight our cultural background, give back to the community, and serve delicious specialty coffee in the process. We dream of creating a space to gather people around through coffee, art, food, music, and fashion. We look forward to the support of family, friends, and the community in our adventure.
Roasted in Nashville, TN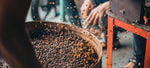 We air roast coffee we are excited about in small quantities to perfect our processes, ensure freshness and bring out the best in every pour. Only 1% of the world's coffee is air roasted, making this a very unique process. We base our collection on a wide range of profiles — full of flavor and love. Our coffees are roasted light to medium but fully developed to highlight their inherent qualities, not hide them. We want to give you fresh, bright, and delicious coffee. We are excited to bring you some of our favorite coffees from around the world!